A1-Phoenix has been providing janitorial services in Manchester, NH and the surrounding areas for over 20 years.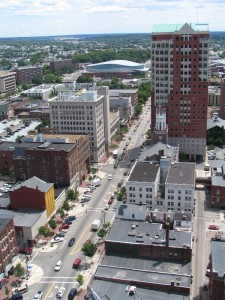 We are a high tech commercial and industrial cleaning company in a low tech field. We urge our customers to give us a call if they have any questions or concerns. We pride ourselves on quick response.
All of our janitorial service professionals carry cell phones. And, as a valued customer you are provided direct access to us. Our goal is to answer your first call. But if for some reason we don't you can also contact us by text message, e-mail or by calling our 24-hour answering service. If for some reason you do not get a quick response we want you to try contacting us by our cell phones again. We want to hear from you no matter how small the issue is. If it is of concern to you, it is of concern to us.
Here is just a sampling of the janitorial services we offer:
General contract cleaning
Window cleaning
Floor stripping and waxing
High speed burnishing of floors
Carpet cleaning (bonnet or steam and extraction)
Power washing
Post-construction cleaning
and much more!
Call A-1 Phoenix Janitorial Cleaning Services today at 603-624-0330 for your Manchester, NH property.